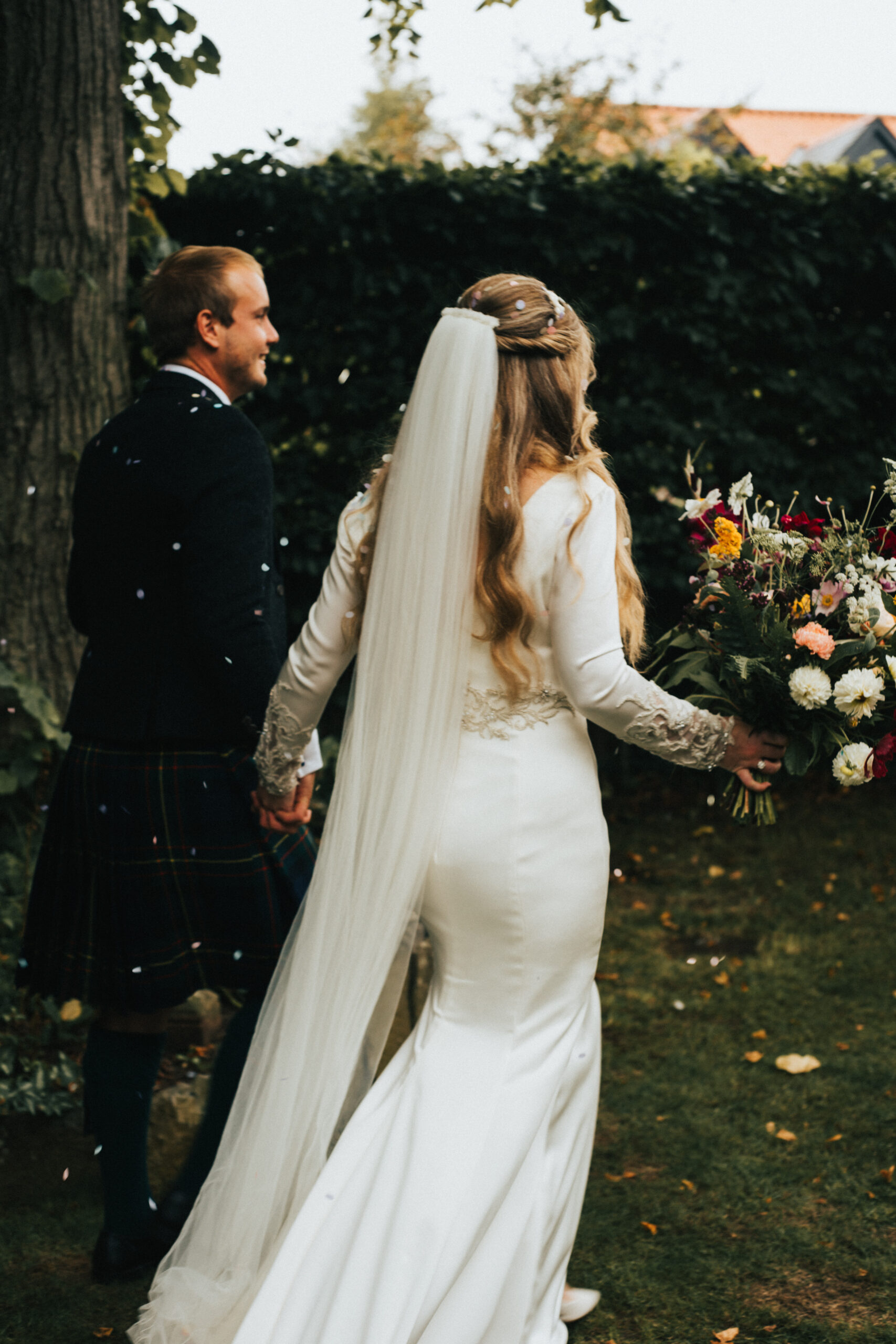 Back in September, I finally got married in my parents garden to my wonderful husband, Sam. Both Sam and I are pretty laid back and we wanted to have a chilled wedding where everyone could be super relaxed, eat great food and just have a great time. We were on a budget (plus we had covid to contend with) but we are both pretty practical so we knew we would do a lot of decor stuff ourselves.
There are lots of ways you can have a lush wedding without wasting money and resources on things you'll only use once. I try to be as eco friendly as possible in my personal life as well as with my business and my wedding was no exception. I actually relish an opportunity to be as resourceful and creative as possible in the most eco friendly way. Here are some of the things we did for our wee wedding that may be inspiring for you!
Petal Confetti
Eco Friendly confetti can be made from lots of different plant based/natural materials, but I opted for flower petals. Luckily, I had a friend on hand who took on the role of confetti master so it saved me a job. We also spent the afternoon making brown paper cones for the petals to go in – which were recycled after. It was so lovely to spend an afternoon crafting with a friend and they loved being involved too. I had some vintage baskets and I also borrowed some of my mums to store them in. When looking at props for your wedding look at what you already have or consider borrowing from friends and family, this will save you money as you wont need to buy new plus it's better for the planet as you are using what you already have.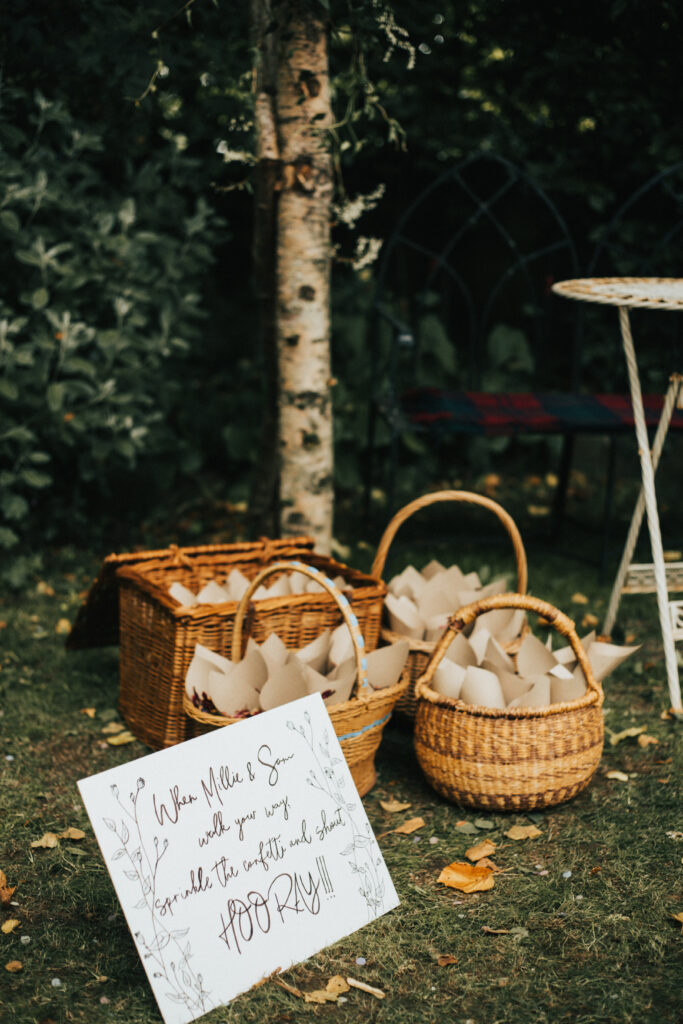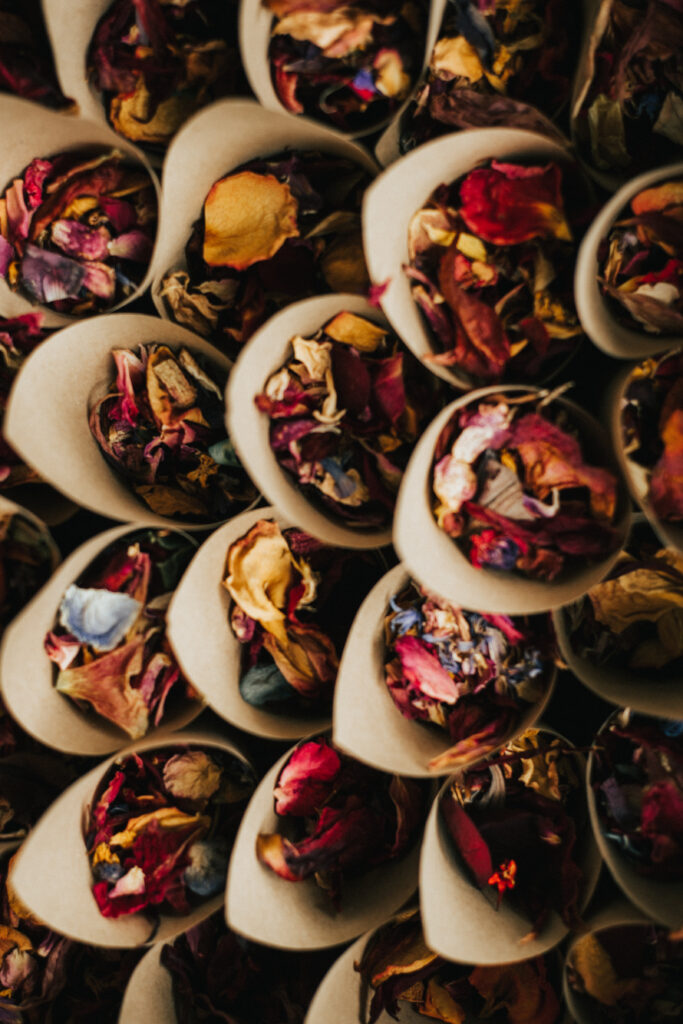 Make Your Own Props
My husband is a tree surgeon and is also very handy with a drill, so Sam, along with his dad, made a gorgeous rustic wooden arch for us to get married under, using old wood that came from a tree job he did locally. You could use old pallets or driftwood and put some foraged greenery around it, or ask around if anyone has wood they don't want. If you don't have access to tools, see if there's a local tool library you can borrow from. East Linton's Tool Library have a great selection of tools you can borrow. We ended up getting married in a different spot in the garden so we used the rustic wooden arch to sign our marriage certificate under. The amazing Ode to Flora florist decorated our rustic arch with foraged ivy.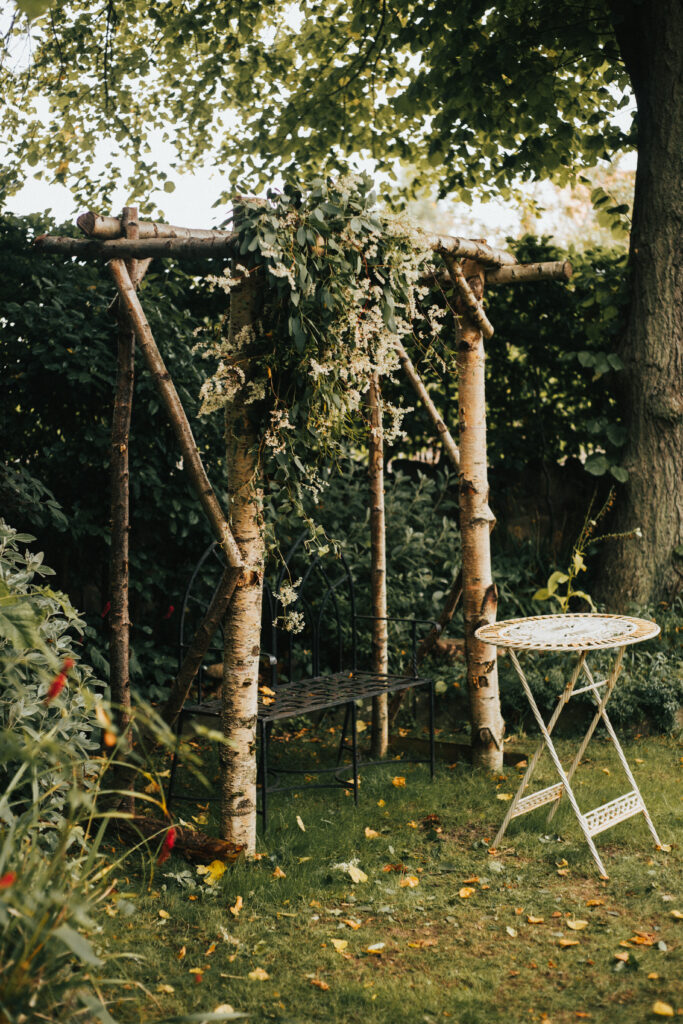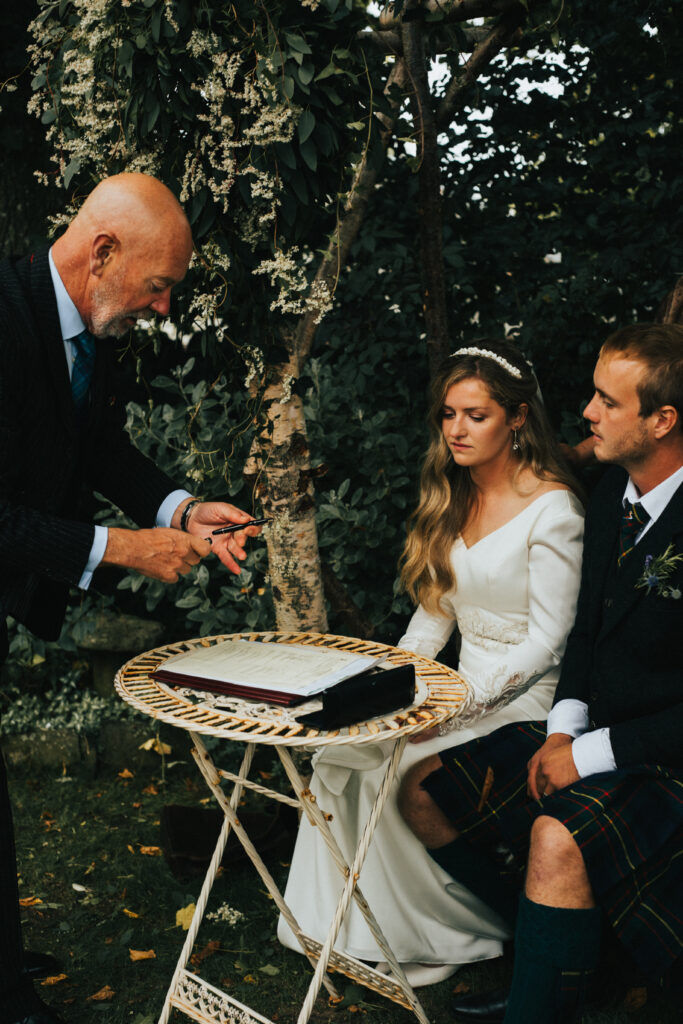 Borrow, Don't Buy
We are at that age where lots of our friends are getting married, so we borrowed some bits from them. Borrowing is not only budget friendly but is also better for the planet as you don't waste resources buying new things you'll only use once. I think it's easy to get carried away when it comes to your wedding but keeping an eye on your purchases and only buying things you can actually reuse will save you and the planet in the long run. If your friends aren't at that stage yet, there are a number of face group groups you can post on like Blushing Brides where people sell their wedding decor items on. We borrowed a sign from our pals and just changed the dates. We also borrowed some vintage containers from my parents to put flower arrangements into, and we borrowed some vintage wine buckets for booze.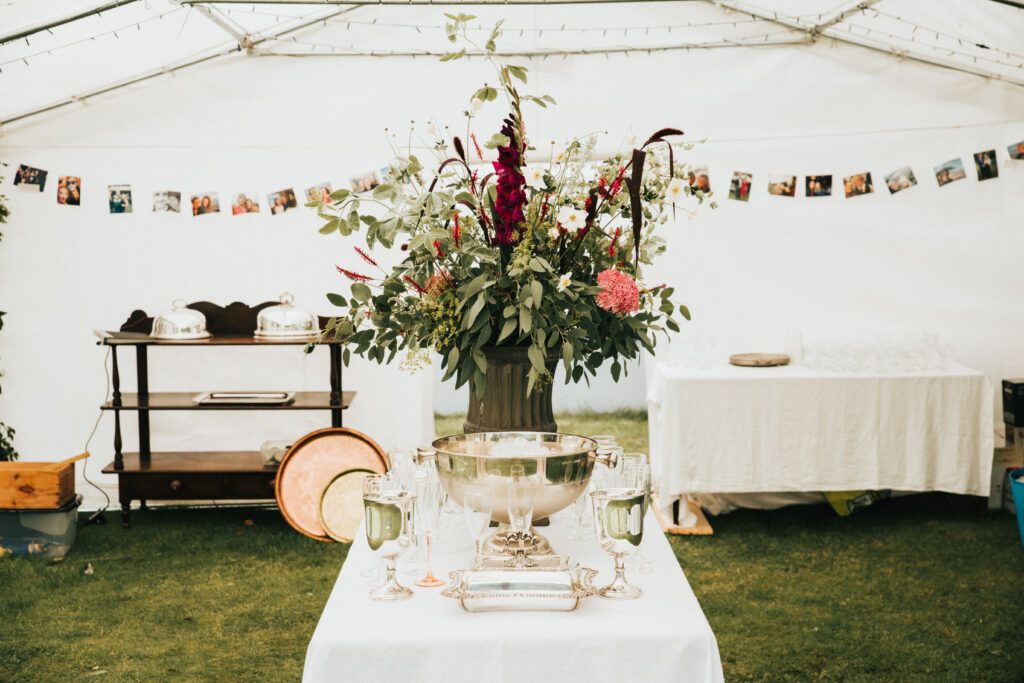 Responsible Foraging and Choosing a Sustainable Florist

One of the things I was looking forward to most (apart from the actual wedding) was doing the flowers with my mum. We both love flower arranging, so we knew we wanted to do as much as we could ourselves. Sam and I got married in September so there were lots of flowers still in bloom, luckily lots of my mums friends are big gardeners and let us pick flowers from their garden. We spent the day going round her friends gardens foraging the most stunning flowers, we also had the help of a florist who gave us lots of tips.
If you don't have access to flowers/other peoples gardens, you can at least forage for foliage and greenery (done responsibly of course). Another option would be asking some friends or relatives to grow some potted flowers for you – generally people love to be involved in weddings and growing flowers from seed can be a lovely way to make people feel involved.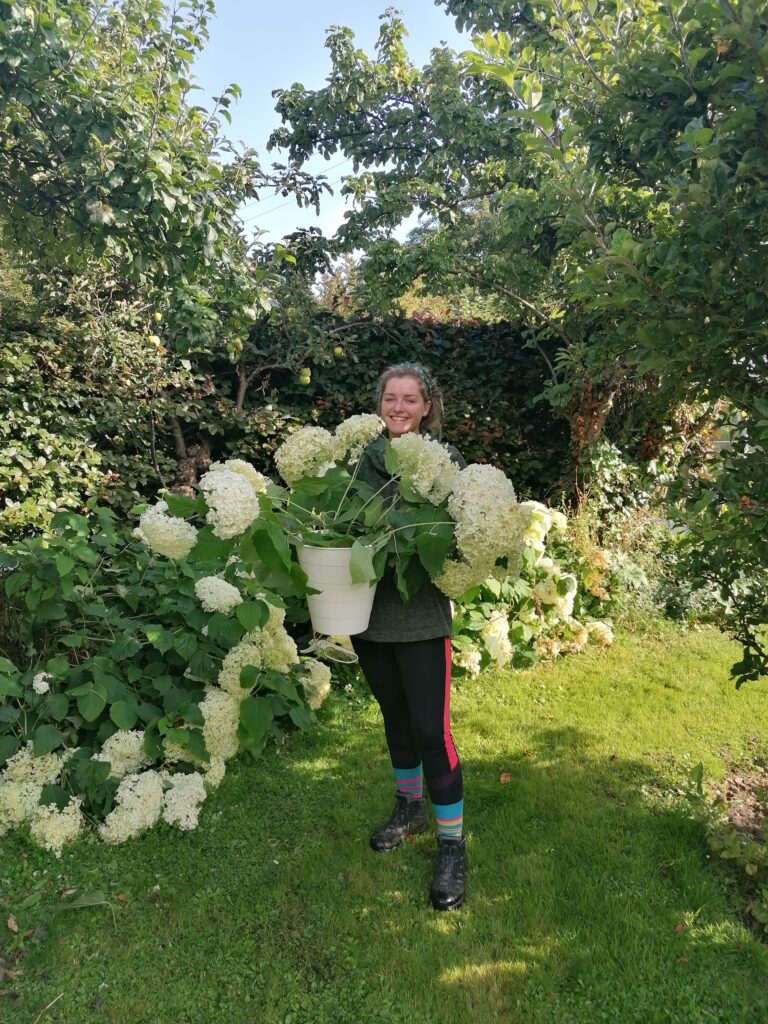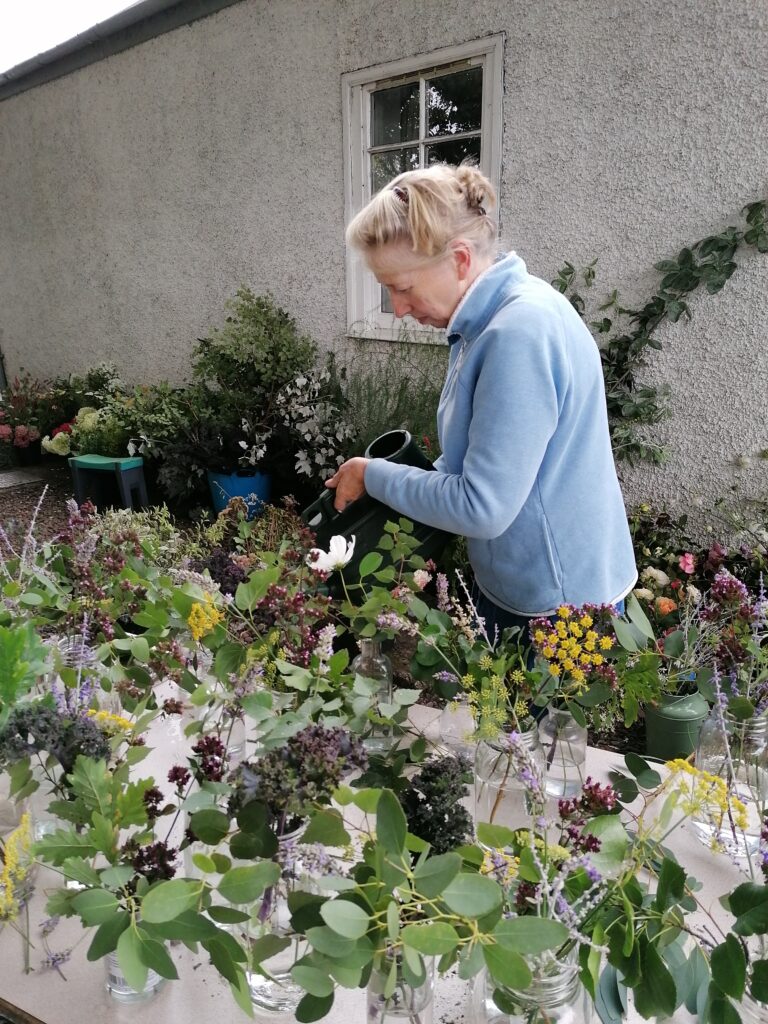 I kept old food jars over the year from my house to recycle as flower jars which we used on the tables. I also borrowed a load of glass bottles/vases from a friend who had recently got married. It really depends on the aesthetic you want to go but recycling food jars is such a cost effective way of getting your flowers done. It's also earth friendly as you are reusing the jars which you can then recycle afterwards! Win win!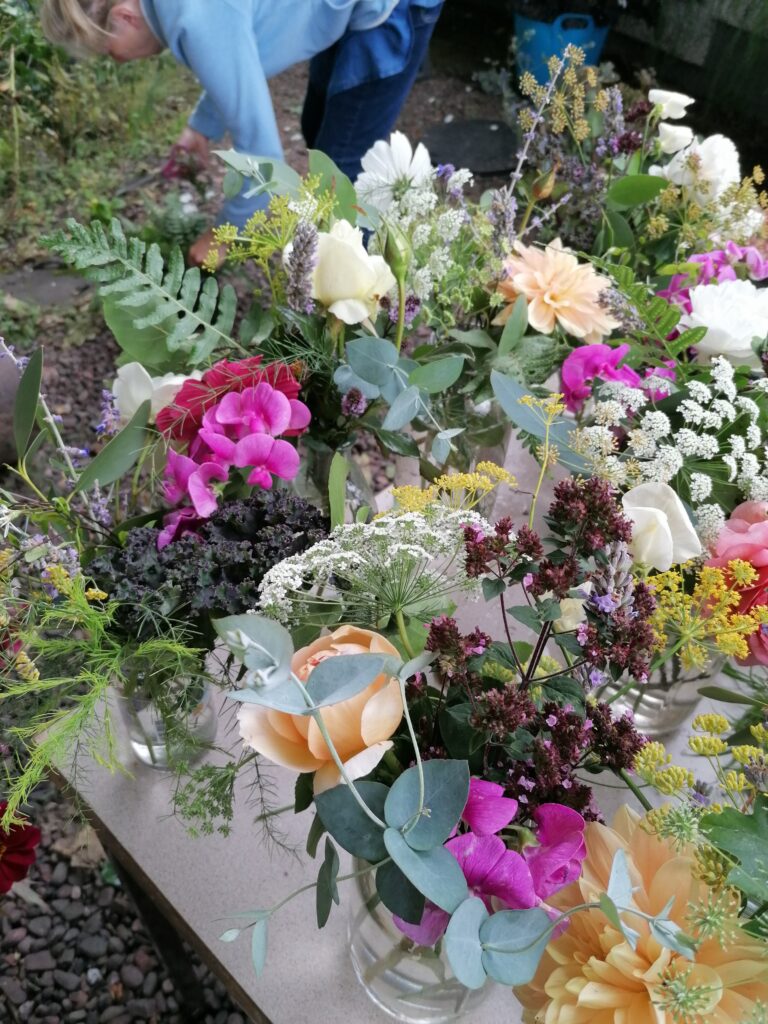 We did get the amazing Fiona Amos from Ode To Flora in to make our floral arches and put together my bouquet and the bridesmaids bouquets. Ode to Flora is a sustainable floristry business that works in harmony with nature by using locally grown flowers and I adore her work. Fiona sources locally grown flowers where possible or on specialist farms across Britain, so I knew her sustainable credentials were there. Her work is absolutely exquisite. The arches and bouquets are very technical things to make up so we wanted a professional in to do this, plus, flower arranging on that scale is very time consuming so it was great to get Fiona in to do the more complex pieces.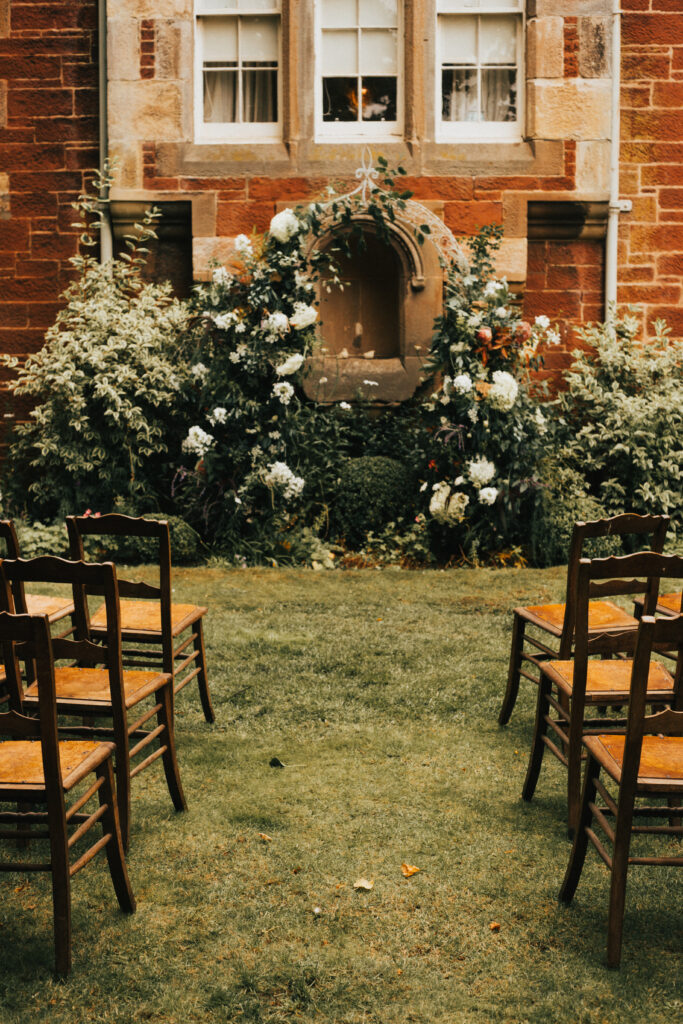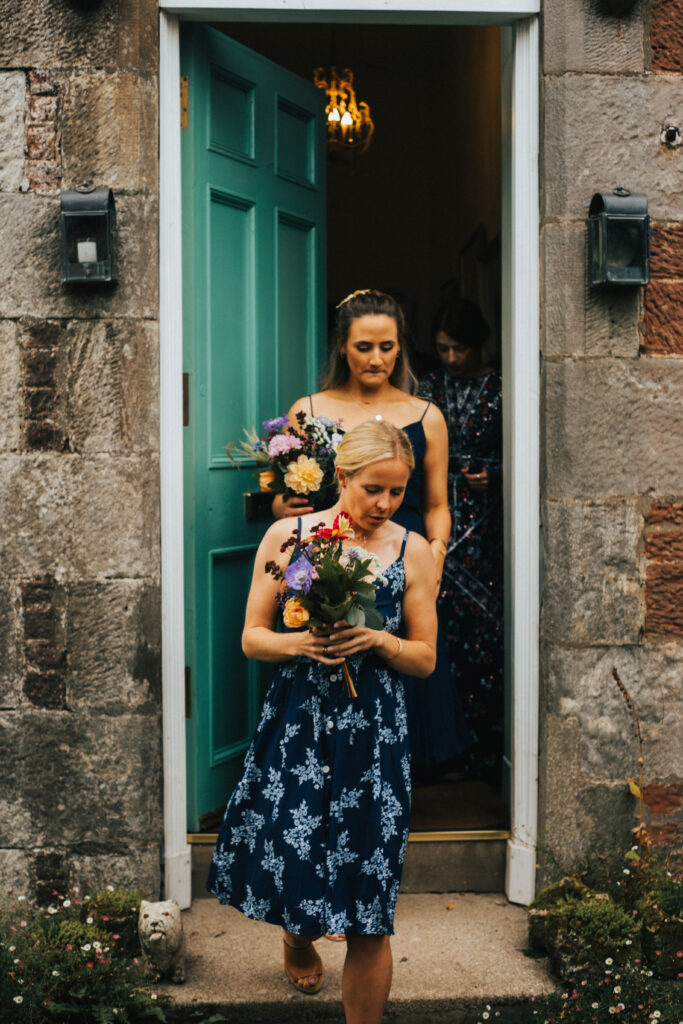 Dress & Rings
Wedding Dress
I went to the British Red Cross shop in Stockbridge where I was able to try on a selection of pre loved dresses. The ladies couldn't have been more helpful and they were also super knowledgeable about all the dresses they had in stock. All dresses there are £300 and under and there are some that have never been worn. So not only is it eco friendly to buy a second hand wedding dress but it's also very budget friendly too! They also stock preloved veils and wedding accessories. My dress needed taken in, hemmed and the sleeves taken up, I went to Miras in Portobello who fitted me and I did the alterations myself. I borrowed my veil from one of my best friends Ailsa Munro Dressmaker and my shell tiara is handmade from preloved jewellery by Lovage and Lace.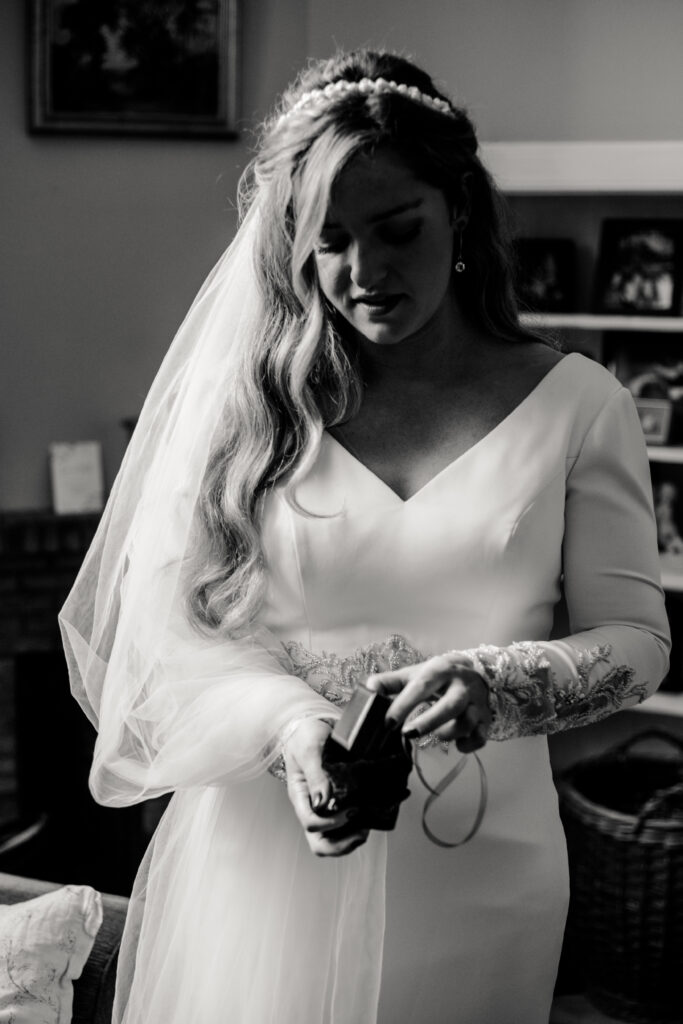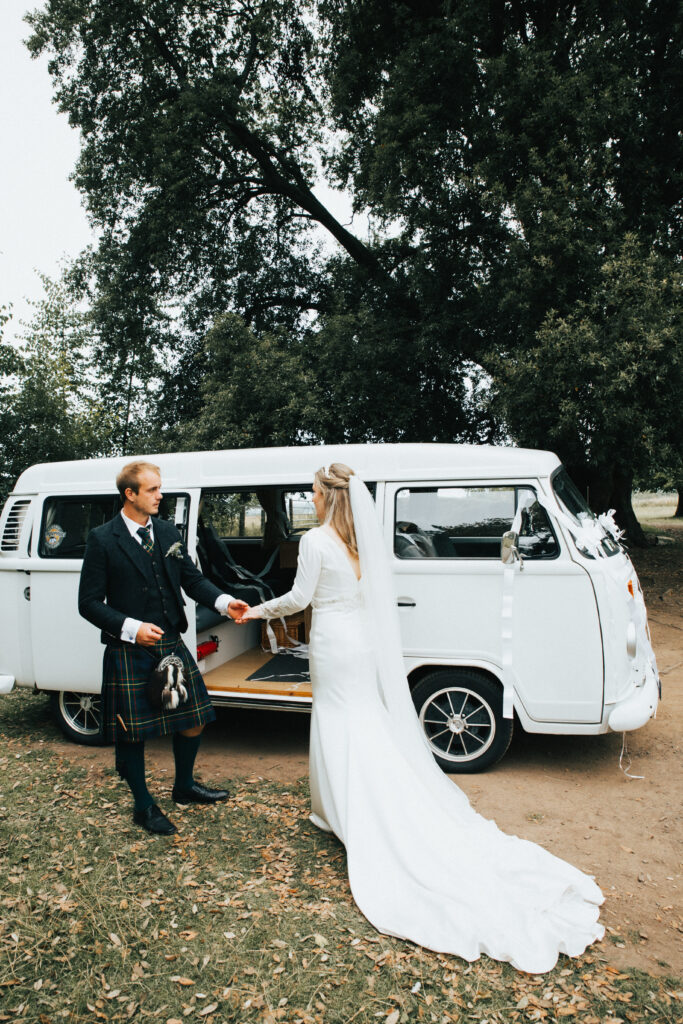 If you do have a bigger budget, I recommend getting something made for you by a small, independent local business instead of going to a generic bridal shop. For the same price as an off the rack wedding dress from the high street, you could get a custom made, bespoke wedding dress from someone like Ailsa Munro Dressmaker. Not only will you get a more personal and tailored experience with Ailsa compared to a generic bridal shop, you will also be supporting an independent business, where you know the person making your dress is getting paid a proper wage.
Bridesmaid Dresses
I love the whimsical look so I didn't want my bridesmaids to be super matching. I wanted my girls to feel amazing and be comfortable so they all chose their own dresses, I asked for them to all wear navy so they looked cohesive and I specifically said it has to be a dress they will wear again.
Having run an alterations and repairs business for the last 5 years, I have seen hundreds of very cheap bridesmaids dresses where often the alterations I would do would be more expensive than the dress itself. Out of the ladies who wore them, 9/10 said they'd be getting rid of the dress once they'd worn it, mainly because they either didn't like it, it wasn't great quality or it just wasn't something they could wear again. My heart would genuinely break a little every time I heard someone say this because it's all just such a waste, plus I think it's rubbish if someone is forced to wear something they don't feel good in.
Much like the mainstream fashion industry, some businesses in the wedding industry are only concerned about making money and they put very little consideration into the environmental and social issues of the things they are selling. Bridesmaid dresses that are made using cheap, synthetic fabrics which will only be worn once then tossed are becoming the norm for weddings and this is not okay. Let's remember that 80% of garment workers are women of colour and many of them do not get paid a minimum wage, let alone a living wage, or have any access to sick pay and maternity pay.
If you really want that matching aesthetic then consider purchasing preloved bridesmaid dresses, or spend your money with an independent business where you know the people who made the clothes will be paid a proper wage. We hired some vintage furs from Lovage and Lace to keep the girls warm.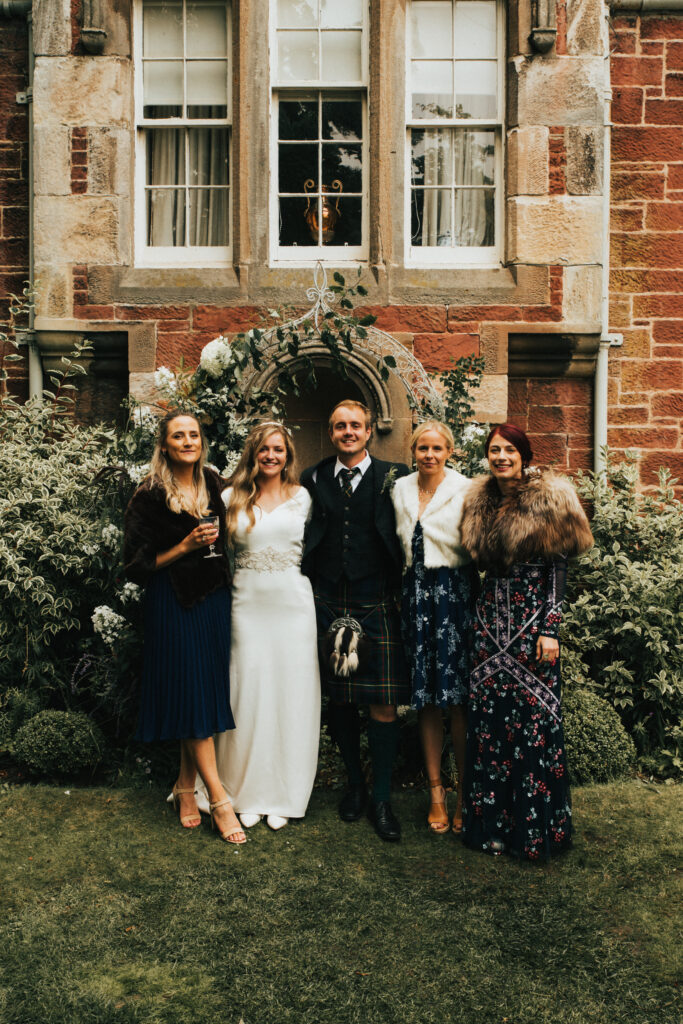 Rings
I've always bought things second hand for as long as I can remember, so it's usually always my first port of call. Not only do you get more for your money but you get something totally unique and special to you. My engagement ring and Sams wedding band is from Chapel Jewellers in Eyemouth and my wedding band is from Theodore David in Edinburgh.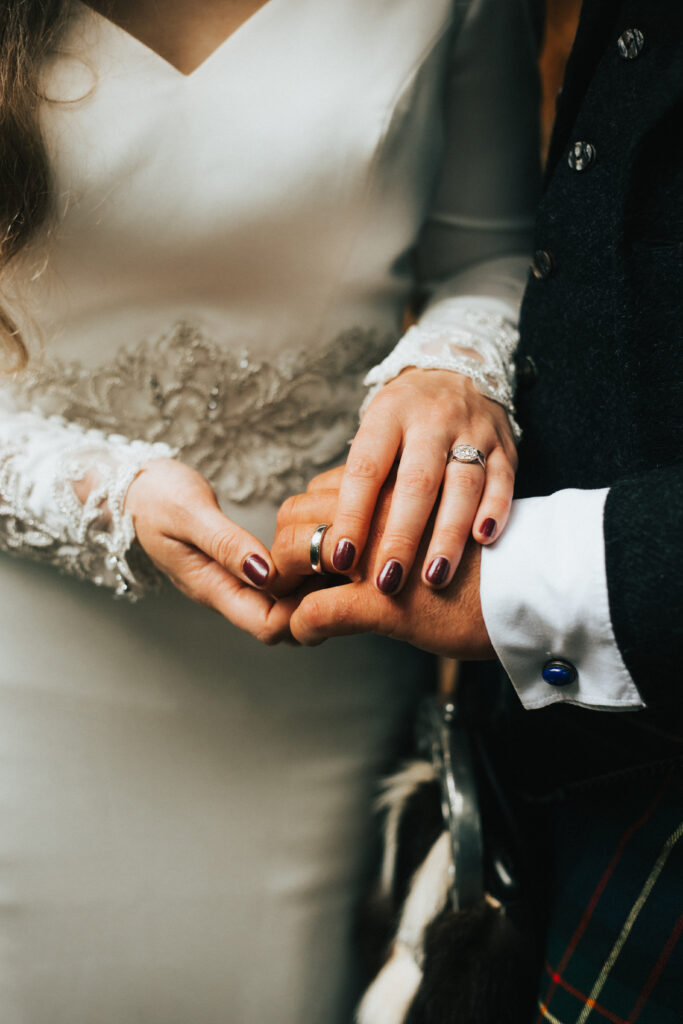 Use Local Suppliers
If you can, always try and use local suppliers. Less mileage to and from your wedding means less carbon emissions and we all know how important it is to support our local businesses. All of our suppliers went above and beyond to make our day amazing. Here's a list of our suppliers who were all small businesses based in East Lothian.

Reception Venue – The Mart, East Linton
Photographers – Woody and Abbi
Catering – Jo's Kitchen
Humanist – Tim Maguire
Wedding Campervan – Classic Campervans Scotland
Flowers – Ode To Flora
Shell Tiara – Lovage and Lace
Veil – Ailsa Munro Dressmaker *based in Cornwall
Hair – Jenny Maclachlan Hair
Nails – Bare Beauty
I hope you have enjoyed this blog, I feel I could have written so much more! I've loved looking back on our wedding, it was the most amazing day. I hope you have found this useful if you are planning a wedding/event!